The Ratchet Rocket Lite DX is an insanely small ratcheting wrench and bit set that's solid, portable, and maybe one of my all-time favorite tools.
The Ratchet Rocket is essentially a compact fine tooth ratchet that's designed to be portable, so you can handle all the small bolts on your bike without lugging around a bunch of allen keys or a bigger toolbox.
The Specs
Functions
16
Ratchet Tool Material
Chrome vanadium steel
Bag Material
Nylon
Added Features
Leverage added, Magnetic bit holder, Patch compartment
Tools
Allen bits – 2 / 2.5 / 3 / 4 / 5 / 6 / 8 mm
Torx® bits – T10 / T15 / T25
2 Phillips screw driver, 2 plastic tire levers, Ratchet tool
Size
12.8 x 6.3 x 2.5 cm / 5" x 2.5" x 1"
Weight
164 g / 5.78 oz
Source: Topeak.com
Features
Reversing ratchet with thumb wheel action
Magnetic holder secures bits and adds leverage
Ratchet driver is compatible with Topeak TorqBits
Protective case keeps things organized and secure
Added T15 Torx® bit for installing Ninja accessory on Tri-Cage series with ease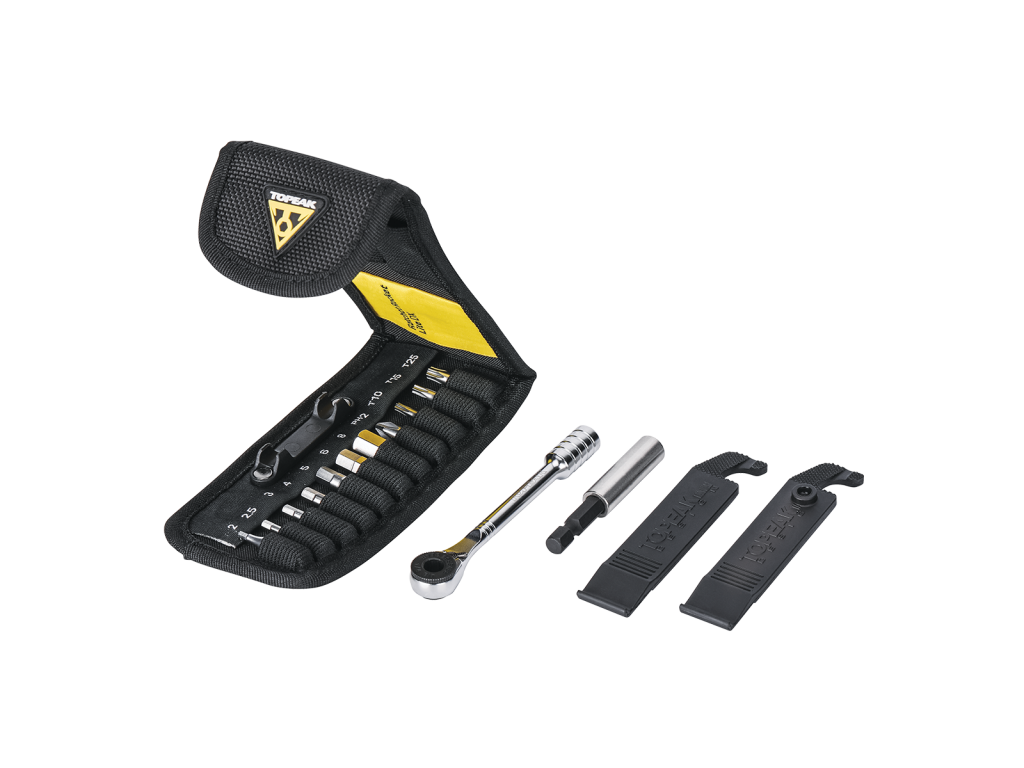 Overview
Okay, so this is a pretty straightforward tool. It's small, it's a ratchet, and it has bits. What's to talk about?
First of all, the quality feels excellent. Topeak uses chrome vanadium steel, which is a relatively hard steel that resists rust pretty well. The details are well-engineered with good tolerances, the nylon bag feels sturdy and well stitched, and the tools all snap tightly into their fastening positions. It feels good. And that matters.
Aside from the feel, yes – it works. The ratcheting mechanism is fairly fine, and has been flawless with maybe a hundred bolts under this tool's belt. The little extension they included is a masterstroke – I use it constantly to get at all the weird little places bolts hide.
The nylon bag itself is the perfect little case for the tool and bits. Everything snaps into place firmly, and it folds up in a compact, flat profile you can easily stick in your pocket.
Conclusion
It's hard to find a fault with this tool, because it just works and is so incredibly useful.
One of my favorite parts of this kit is the carrying case. I really wish Topeak did something this slick with the Nano Torqbar.
One thing to note is that since the wrench itself is pretty skinny, and made of steel without any kind of coating, it'll bite into your hand a bit if you're really torquing on a bolt hard and/or repeatedly. Granted, you shouldn't be torquing on your small bolts that hard to begin with – but I'll use this tool to break rotor bolts and remove/install them, and it's not entirely comfortable in my hand after doing a dozen of them with old anti-seize working against me.
The Ratchet Rocket goes for about $34.95, which is probably the biggest (if not only) strike against it. There are generic ratchet kits on Amazon for probably half that price, but they might not have the same bits or quality Topeak has.
Having dealt with Topeak support in the past when a retaining rubber strap for my pump broke, they were excellent. Somebody picked up the phone right away, and sent me a new one no questions asked. I feel like I'd be in good hands if anything ever did happen with this tool. Right now, I've been wrenching on it for half a year and it's one of my favorite tools to have.